About Us
Bringing dreams to reality... Evergreen Landscaping Services Inc., a fully licensed and insured company, has been in operation and owned by Larry Slagh for over 35 years. Widely recognized for his lifelong success in the industry in addition to his crew of specialized designers and installers, we at Evergreen are capable of fulfilling the highest standards of landscape performance.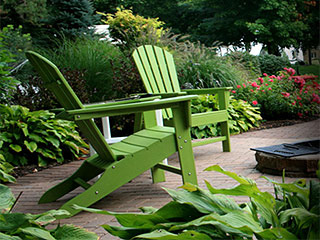 From the first consultation to design-installation and maintenance, Evergreen Landscaping is committed to providing the highest quality of customer service, as well as honest and unique craftsmanship offered in this industry. It is our professional responsibility in addition to our personal passion and interest in the landscaping industry to treat every project as if they were our very own. From the most spectacular outdoor living spaces to the most distinct landscapes, we pride ourselves in our ability to combine our professional expertise and elements of extraordinary design with your thoughts and ideas about the masterpiece.

As an experienced company diverse in specializations within the industry, Evergreen Landscaping offers an array of options for design including outdoor living spaces, water features including but not limited to waterfalls, and uniquely featured landscapes that are destined to capture captivating attention. We will create the utmost user friendly, inviting, and comfortable outdoor area imaginable to complete and accompany any home or business.

It is our company's sincere mission to create cutting edge designs, practices, expertise, continuing education, and certifications of staff and would very much take pride in making your outdoor dreams become reality.


"With our team of professionals I am confident that the proper time, quality, craftsmanship as well as all aspects and elements that must be incorporated into any size project to exceed any ordinary landscape creation and match your functional needs."

- Larry Slagh, Owner


Please see our Credentials PDF for more information.
We Provide Services to the Following Cities, Towns and Surrounds of West MI: