Retaining Walls
When we at Evergreen Landscaping handle any end-to-end landscaping project, one of the first things we focus on, is to create a very stable and strong foundation. This means using the right kind of masonry materials to build the hardscaping on your property. Retaining walls are a very important component of any hardscape design project.


What Are Retaining Walls?
Many properties in and around Holland, Grand Haven, Zeeland, Saugatuck, South Haven and Douglas have graded land and some of it may be distinctly sloping. While this kind of grading offers very interesting landscaping opportunities, it also poses certain challenges. In fact, too much of a slope can actually be a major hurdle when it comes to the installation of features such as outdoor kitchens, driveways and walkways.

At times, the slopes have to be excavated, and the ground leveled. This helps create the space required to build these outdoor features. However, it also leaves a face of the slope exposed, which can be a mudslide waiting to happen. In expansive, spread-out properties, this can also result in soil erosion which can have a negative impact on the integrity of the landscaping.

In the recent past, we have successfully completed a number of landscaping projects for customers across Jenison, Norton Shores, Spring Lake, Grandville and Wyoming. As part of these projects, we have built retaining walls on many of these properties. These walls provide the slope the support it needs.


Retaining Wall Materials
Garden retaining walls could be built using a range of materials including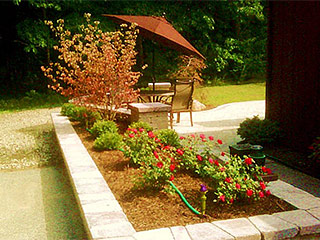 CMU (Concrete Masonry Units) - These are being increasingly preferred as a material to build retaining walls. The installation is quick and they are very economical too. If you feel the concrete surface looks very dull and drab, we can give them the appearance of stone, by installing veneer on them
Concrete Blocks - These modular blocks are very resilient. Their interlocking design make it very easy to build walls in outdoor spaces, quickly and efficiently
Natural Stone - Some of our customers are positive they want only natural stone walls. These could be constructed using mortar; we can also build dry-stacked stone walls and you have the flexibility switch around the placement of the stones every few years, if you like. You can get a professional to help with these. The job is more labor intensive and the material cost is higher too; which escalates the cost of this structure
Cost-Effective Retaining Walls
Brick or combination walls are something you can opt for as well; and we may use natural stone, timber as well as brick and mortar in these walls. Regardless of the type of engineered walls we build on your property, we maintain very low retaining wall cost. If you are looking for retaining wall companies in the West Michigan area, you need look no further than Evergreen Landscaping. You can call us at this number-616-399-6876 and tell our experts what your specific requirements are. If you prefer to send us your queries via email, please use this online form.
We Provide Services to the Following Cities, Towns and Surrounds of West MI: