Testimonials
I've been a customer of Evergreen Landscaping since the 1980's. They've done all of my Lawn Care and Snow Removal on time and always at a fair price. Larry Slagh, and now with the help of son Aaron, have great ideas for landscaping, along with the best concepts for your outdoor living. They always go beyond your expectations, not only during the job, but maintaining its beauty for many years.

A Satisfied Customer………………..David L. Dirkse.


Hello Aaron, Larry, As I write this note, the snow is falling. One might think this an odd time of year to be singing the praises of your landscape company, however it is, in fact, the perfect time! You see, I am sitting by the window looking out at our back yard- our "winterscape". When we called Evergreen seeking help for our poor back yard, little did we know that we would end up with an outdoor living space such as this! We spent many hours sitting out there as fall set in, marveling at the beautiful surroundings that seemed to have gotten better with the season change. And now this! Can it be that winter compliments this setting even more? Whether inside watching the movement of the water cascading, whether outside sitting by the warm fireplace, or whether laying in bed on a summer night listening to the rush of the waterfall, one thing is clear; our living space has expanded outdoors in and indoors out. Clearly the value of our home (in everyway) has been enhanced. We compliment you on your friendliness, professionalism, timeliness and design! It was a joy doing business with you!

Be proud! We are!

Merry Christmas
Janie & Danny


Aaron, I wanted to take this time to thank you and the crew at Evergreen Landscaping. We were removing an above ground pool off our back deck that we had for approx. 12 years. Your patience and cooperation were very comforting as we worked through what this area would look like without the pool. We appreciate how you worked with us, making suggestions, drawing outlines on the ground and the computer picture made it so much easier for us to visualize what our patio would look like. The final outcome was/is outstanding, better than we had imagined. We look forward to many special evenings sitting around the campfire with friends and family. Thanks again for all the great ideas and patience, it was great to work with you and your crew.

Lew & Jill Wilson Zeeland, MI


Our landscaping project started as a driveway expansion which was quickly revamped to include paver sidewalks, a waterfall, a pond, plantings and grass sod. From start to finish, Evergreen Landscaping Inc. demonstrated a dependable, knowledgeable and reachable business ethic – complete professionalism with a charismatic approach. The design team took our home landscape and, through innovative computer design simulations, created a visual concept of the final product. We are very pleased with our decision to extend our project, not only from a landscaping design but, also a relaxing, accommodating and useable outdoor living space.

Brian and Stacie.


Evergreen Landscaping Service Inc. performed an outstanding job updating and improving our landscape and living space outside. The crew performed diligently, proficiently, and skillfully while maintaining professionalism. With a basic idea in place, your crew was able to make our outdoor home scenery look exceptional and unique. The landscape in the front of our home depicts a commendable design complementing our home and the surrounding environment. The back yard is truly an extension of our living space portraying a distinctive water feature cascading over the rocks, in addition to a relaxing seating area close to all the innovative landscape plants. My husband, children, friends, and myself are able to relax while enjoying the peaceful and quiet outdoor setting. We are truly appreciative of how much character and value you have added to our home. Thank-you!

Steve and Robin Kamphuis


We have had the opportunity to work with Evergreen Landscaping on a major revamping of our backyard. We had contacted three other firms for ideas and quotes. In the end, Evergreens ideas were heads above the other firms. The implementation of the plan and the flexibility of Aaron during the work faze resulted in a project that we are extremely satisfied with. The crews were pleasant and conscious of the surrounding neighbors' property and concerns. I would not hesitate to recommend Evergreen Landscaping for your upcoming landscaping project.

Stan & Jan Buell


Larry, each year we receive many compliments on the appearance of our yard ... and we need to give you the credit. You took our rather vague ideas and created beautiful sweeping vistas of color and texture which change with the seasons. Even in the depth of winter there is color! For over 20 years now you and your team have been faithful in annual maintenance including the lawn and major landscaping needs including updating plantings which have become tired with age. We especially appreciate the extra steps you have taken to respond to our requests to have our yard look its best when we are expecting guests. Thank you, Evergreen Landscaping!!

David and Jayne VerLee
Park Township, Holland, MI


Some artists use brush, canvas and paint while others use words, rhythm and rhyme. Aaron Slagh and the good folks at Evergreen Landscaping use stonework, nature and incredible instincts. In the summer of 2010 Aaron Slagh and Evergreen Landscaping took our backyard and transformed it from an eyesore into artwork and we couldn't be happier! We really are grateful and eager to enjoy our second season with your outdoor artwork!

Thank you Aaron and Evergreen!


My family and I highly recommend Evergreen Landscaping Services. We were looking for a landscape architect who could develop a customized outdoor living space that fit well with our surroundings. Evergreen took the time to study our project and develop detailed plans, incorporating our ideas with their extensive landscape knowledge and experience. The finished product was more aesthetically pleasing than we had imagined. The workmanship quality was outstanding as well.

Sincerely,

Tom and Susan


Our sincerest appreciation goes to Aaron Slagh and the design/site crew at Evergreen Landscaping. Aaron displayed unprecedented customer service as he not only was patient while we delayed our outdoor living space project for a year, but he continued to be involved and follow up during that time. Although we had a terrific living space planned, Aaron took the time to help it evolve into a beautiful outdoor living space with attention given to the finest detail.

Our appreciation also to the site crew that work so hard to bring the design together. Steve and Juan both applied themselves as if the project were in their own yard. They took time to address design alterations that even further brought the living space to life.

We would certainly not hesitate to recommend Evergreen Landscaping to anyone looking to create an outdoor experience for their home. Again thank you to Aaron, Steve and Juan for all your unfailing service and dedication. We look forward to having you back in time for that water feature.

Sincerely,

Jeremy & Sharon Christian




Created for Evergreen Landscaping by a Holland area kindergarten class.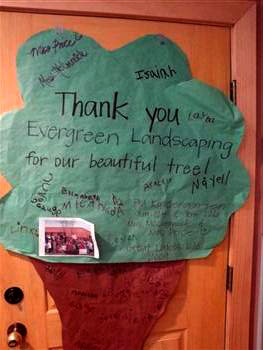 We Provide Services to the Following Cities, Towns and Surrounds of West MI: